Day 8 Lone Rider Harley Version
There was no biking for me today. It was a chance for Mike to get on his motorcycle and ride to his heart's content. After breakfast, he unloaded his Harley Davidson motorcycle out of the trailer, suited up and headed down Highway 101. My mental juke box already had Steppenwolf playing in his honor.
Now it was my turn to drive the 30 feet of van/trailer duo. My saving grace was that the trailer was now empty, so it would climb the hills and brake down the hills a little easier.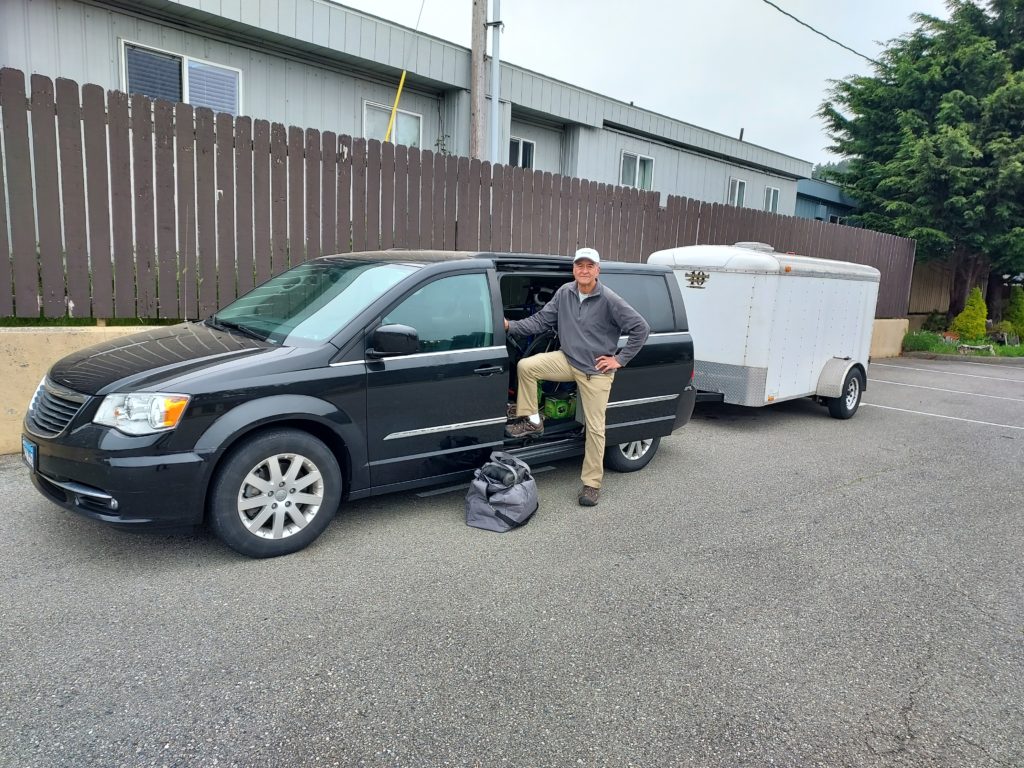 It was 57 miles to Crescent City. I'd seen the coastline before and wasn't going to make many stops towing the trailer. However, some of the views still caused me to pause.
Mike was having a good ride. He was able to make a stop that I had bypassed on my bike ride near Arch Rock.
Even though I stopped for gas in Brookings, I beat Mike to the border.
When I got to Crescent City, I looked for a place that had the biggest, emptiest parking lot. I talked to Mike from the lot at the Tractor Supply store and got an update on his sightseeing ride. I killed time at a McDonald's waiting for Mike. He arrived in the early afternoon and we planned out the afternoon. We drove a few blocks to our luxurious accommodations at the Motel 6 where I could snap up the biggest parking space. We unhooked the trailer, then Mike headed south towards Klamath and I headed towards a spot on the Smith River that Mike had found near Jebediah Smith Redwoods Park.
On his way to Klamath, Mike got up close to the redwoods, which made even the largest creatures seem small.
While Mike continued south, I went to the river to don my waders and boots. I worked this section of river for over 90 minutes. I was fishing, but not catching. The good news was that I didn't lose any lures.
I had directed Mike to a hollowed Redwood that he could ride the motorcycle through. Ron and I had been directed to it by our warm shower host 2 years ago. There are actually several places like this. He found some other tourists to help him capture the moment.
It was a good day all around. Mike did a lot of riding, I got to do some river fishing. We both saw some beautiful scenery. We finished the evening with Chinese take out and "The Champagne of Beers" from Safeway.
The Not So Lone Rider