I have been to the Mountaintop (Or at least the Pass)
Becky had read that the roads leading up to Mount Rainier (Tahoma) were clear of snow, but closed to automobile traffic. But what about bicycle traffic? Like Rocky said to the ice rink manager "Are you closed to everybody or just the general public?" We made a plan to drive to the Nisqually entrance of the National Park that leads to Paradise. Becky would do some hikes near the entrance and I would bike some 16 miles to Paradise with a challenging 3400 foot climb. Once there, I would turn around and just glide back down hill. I figured I would have the road to myself.
Between the Sunday that we made the plan and our goal of leaving early Wednesday morning, Becky learned that the road was now closed to bicycles as well. We suspect that we weren't the only ones who had that idea and this was probably a good opportunity for the park people to do road maintenance. Becky developed a plan B that would let me climb from the north, rather than the southwest. We would leave from one of the popular gathering places of her hikes at the Wapiti Outdoors (Wapiti Woolies) shop in Greenwater, WA. She would do some hiking around there and I would ride 23 miles and Climb 3,100 feet to Cayuse Pass. From that high point, I would turn around and meet her back at the store, 4 and a half hours later. Google maps predicted a 3 hour ride up and a 1.5 hour ride down. With a newly cleaned and tuned Hidalgo, I thought I could meet or even beat that time.
We got to our starting point at about 9:30 AM on Wednesday, May 27, 2020 and I was probably riding by 9:45 AM. It was a sunny, clear day with a temperature of 58F. Out here in Washington, it can feel like a 5 degree difference between the sun and the shade. The early part of the ride had a lot of shade from the dense forest that lined the road. About 5 miles in, I did a photo stop at a marker for the park along with a "10-100" (CB talk for nature break).
There was lots of pretty viewpoints as I rode along the White River on WA-410. I stopped at Skookum Falls for pictures, trail mix, and water.
Skookum Falls
About 14 miles into the ride, I was at one of the more official entrances to the National Park. It was just 15 months ago, when Becky and I had taken Edoardo Pariani, our Italian exchange student, to this place to do a snow shoe hike. This area was under 3 to 6 feet of snow at that time. It was a different look today! By this point I had climbed the first 1000 feet of the total 3000 I would encounter.
It took me 14 miles to climb the first 1,000 feet. It only took another 5 miles to climb the next 1,000 feet. This mountain was getting steeper the farther I went! There were some great views of the mountaintop along the way. At one of the viewpoints, I met another biker, who was close to my age. His bike was a little newer than Hidalgo, but also a Specialized Roubaix. Even though he had more expensive gadgetry, he did comment that Hidalgo looked cleaner than his – not that it looked very dirty to me. I guess I had done a good job on Hidalgo 2 days before! I told him that Becky was hiking while I rode. He enjoys both biking and hiking. I am not as well rounded. It was good that Becky could do what she liked and I could do what I wanted in the same beautiful place.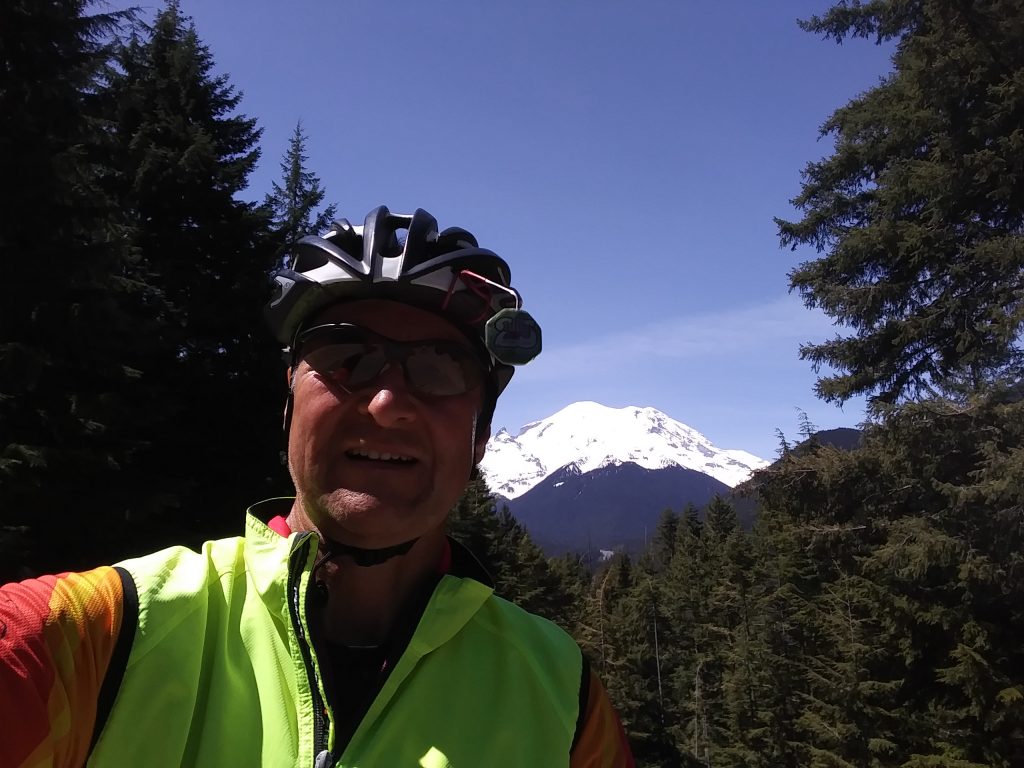 We left together and we were doing a similar pace. Being the Lone Rider, I feared I might have to have a riding companion. Luckily, as I stopped to take some pictures and load up on the trail mix, he got enough of a lead that helped avoid any awkwardness of my anti-social nature. In less than 4 miles, I climbed the final 1,000 feet to Cayuse Pass. As I got to within a quarter mile of my goal, my new found friend was flying downhill yelling "you're almost there!"
Made it to the Top!
At the top there was room for a few cars and motorcycles to congregate (at a safe distance in these COVID times). I caught my breath, munched on some more trail mix and washed it down with more water. In spite of the sun, it was fairly cool up at the top.
After the refreshments, I started down. In the blink of an eye, I was going downhill at 30 MPH. While the road had some curves, I hardly had to use the brakes and I certainly didn't need to pedal. For the next 6 miles, I glanced at my bike computer and saw it jump around between 28 and 34 MPH. My fingers were always near the brakes. Depending on whether you believe Garmin or Strava, my max speed was either 36 or 42 MPH. All I know was that I was going the fastest I'd ever been since an empty stretch of Arizona hills with a 35 MPH tailwind four years ago! During that roughly 12 minute stretch, there was not one vehicle behind me, so it was clear sailing. I couldn't help but sing out "Wheeeeeee!" every time I passed some hikers or other tourists on the side of the rode. I just felt like that piggie in the GEICO commercial [www.youtube.com/watch?v=g9H3KwVH_dE]
Eventually, the road was a more normal grade. I kept Hidalgo in a high gear and stayed around 20 MPH for many more miles, but I was pedaling by then. When I got to within 5 miles of the finish, Becky magically appeared and passed me in our car. She was waiting for me by the time I got back to Wapiti Woolies in Greenwater. Not including some stops for pictures, etc., it was 2:20 of pedaling to get up and 1:04 to come down. Even with some stops, I still beat the google estimate. Like a child of Lake Wobegone, I was above average. See the details here.
Becky is a goddess, but not the Pie Goddess
I have been reading a book on the history of the area, called True Tales of Puget Sound. by Dorothy Wilhelm. She devoted a chapter to the "Pie Goddess" of Enumclaw, WA. After my ride and Becky's hike, we had to check it out on the drive back home. We settled on an apple walnut pie. That night at dinner, we agreed that it was the best pie we ever had. Good thing they are far away, or we would have a serious monkey on our backs!