Mike and I had spent the night in Pagosa Springs in a hotel that was "420 friendly" according to the sign outside their entrance. The guy who checked us in looked like he had done a lot of living in his time. He was friendly and even gave us some rags to help clean up Hidalgo after the wet start we had that day.
I was up early today, still a little nervous about the monster climb to Wolf Creek Pass at an elevation of 10,860 feet. I was starting 23 miles from that summit at 7,096 feet. I studied the maps one more time. Climb 600 feet in the first 10 miles. That would be easy. Another 800 feet in the next 6 miles. Definitely getting steeper. Then it goes up 2400 feet in the final 7 miles to the summit, almost twice as steep. After that it would pretty much be downhill. Since this was the geographic high point of the entire ride, this was the climb of my life.
As I ate breakfast, the mental jukebox was already playing "Ain't No Mountain High Enough" both Marvin Gaye/Tammi Terrell and Diana Ross versions. Even nuns singing "Climb Every Mountain". The first few miles were chilly. It was about 33F and sunny and the miles went by quickly. I've found the landscape to be deceptive. It may appear that you are going level or even downhill when in fact you are going uphill. Of course, the low gears and hard pedaling can leave no doubt that you are going uphill.
The mental Jukebox played the obligatory John Denver set as I got higher with snow-capped mountains ahead. I did a few picture stops as the uphill got steeper. When I finally came to a sign that indicated "Wolf Creek Pass 8 Miles". it started to snow. It was very fine, almost like sand. Now the real climb was at hand.
It was very windy and the snow and wind were fortunately hitting me mostly in the back. I just kept my head down, hands near the brakes, and kept staring at the moving white line under my front wheel. Johnny Cash popped up on the mental jukebox with "I Walk The Line".
I can pick the melody on my guitar, but could not remember all the words .. "I wash my hands with soap and turpentine. .. because your mine, I walk the line.." Wrong words or not it helped me make the climb. At the top it was dark, cloudy, windy and there was so much snow accumulated on the shoulder, I had to ride a little bit more on the outside lane. It was wet and rivers of water sometimes made their own small canyon in the snow on the shoulder. The snow wasn't getting me too wet, but each passing vehicle would kick up spray to try and soak me down. When I did wander back to the shoulder my rear wheel would sometimes slip. It was starting to get a little dangerous. When I got to the top, I was afraid I'd see Gandalf waiting for me, pounding his staff and yelling "YOU SHALL NOT PASS"! Instead, Mike was waiting for me at the summit. I was so glad he had come out for this part of the trip.
With my wheels slipping on the shoulder and a wet downhill on a dangerous grade, I had decided that the challenge had been met by reaching the summit. Mike helped strip both wheels off Hidalgo and got the bike into the back seat of his Cadillac STS. Someone else was unloading his snowmobile and starting a joy ride as we headed down the mountain side. We drove down 17 miles to South Fork. As we drove, I found the downhill scarier than the uphill. In South Fork, we got something to eat, potty break, and then reassembled Hidalgo. I caught a tail wind as I headed to Del Norte.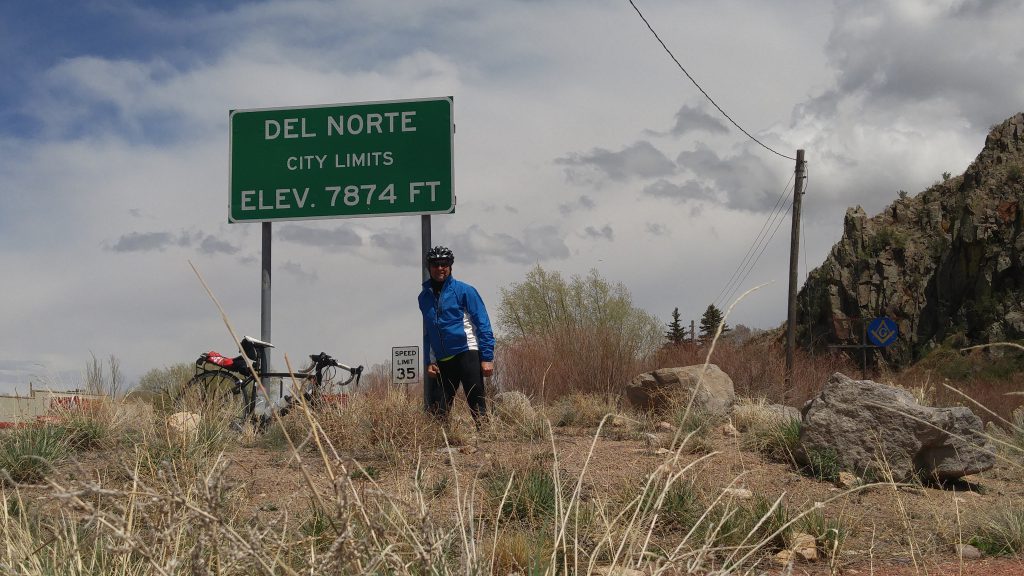 I made great time, holding better than 20 mph. Although the wind certainly helped, there was still a downhill terrain. It looked flat, but I couldn't go that fast with just the wind I had at that time.
Other than a few picture stops, it was pretty steady to the finish in Monte Vista. My 72 mile day became a 53 mile day, but it was all for the better. I'm just shy of my first 1,000 miles, with 948 under my belt.
Each night's accommodation are part of the adventure. Tonight we are in the mule deer room of the Rio Grand Motel in Monte Vista. It does have a certain motif.
The Lone Rider