I was feeling the effects of seeing so much sun yesterday. I know it is illegal to ride a bicycle on the interstate in many states, but Google had suggested I-10 as I crossed into AZ from the CA border town of Blythe.
I have never ridden on an interstate and it would definitely shorten today's ride, so I thought "It's part of the adventure!" About 5 miles outside Blythe I got onto a pedestrian bridge and crossed the Colorado River into AZ. I rode over the interstate, went on a roundabout and got onto I-10. The shoulder was comfortably wide and pretty smooth. The semis were careful with me giving me extra room, even though I had a safe buffer. My mental jukebox started playing C.W. McCall's "Convoy". With a little tailwind and slight downhill, we let them truckers roll, 10-4 …
I had a nice conversation with the rest stop attendant at the first area in AZ. He was a veteran and by coincidence had grown up in Indiana, graduating from Columbus High in 1955. Recently he has also been doing some substitute teaching and certainly sees the need for mentors for the kids he sees. It was nice to be able to take Hidalgo into the restroom so I didn't have to break out the lock and cable.
I met Becky at a Loves at the Quartzite exit. Though Becky was with me, I had decided to carry my panniers so I could get used to it and to make sure my new bike rack was still working. It made for harder pedaling, but this is the way it is going to be for most of the trip, so I need to get used to it. Yesterday when Becky had me carry my panniers part of the way, it was like going without training wheels when you first learn how to ride a bike. Tomorrow morning she flies home and I continue northeast. Then the training wheels will be completely gone 🙁
I got a sandwich at a small store in Brenda, just after I got off I-10 onto US 60. It was once again nice to just leave Hidalgo outside, unlocked while I got a bathroom break and lunch. Places to get water are pretty precious to me out here in the desert. It was a great downhill for 5 miles. When it flattened out, the road got rough and there was a strong crosswind. It made pedaling tough until I banked north and got smooth pavement again. You really notice the difference, especially after 50+ miles into a 61 mile ride.
I have had trouble with my front derailleur the last few days because of all the sand that has gotten into everything on the bike. The owner/managers, Randy and Janet led me back to the workshop. They loaned me materials to clean up Hidalgo, including lube, rags, and brushes. They also let me use one of the best bicycle pumps I've ever used to top off the pressure in the tires. I suspect Randy may have been a roadie in a prior life. Although graying, he is still pretty muscular. There must have been 20 ID tags hanging in the kitchen. These tags, some with pictures that looked like they could have been Randy, were from tours with Heart, the Rolling Stones, and many more (as performed by the original artists).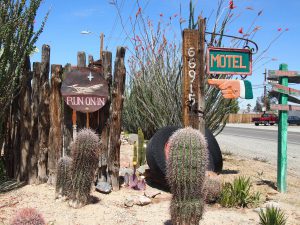 The Lone Rider