Day 4 Bicycle Wecona Beach-Otter Crest Loop
Big Mig and The Lone Rider unloaded the bicycles from the van and headed south from Wecona Beach (Lincoln City) down Highway 101. From previous experiences, I knew we would get some beautiful views of the ocean coastline. It was a sunny day, with light tailwind that made any uphill climbs an easy ride while we were still fresh.
In less than 6 miles we were getting some spectacular scenery.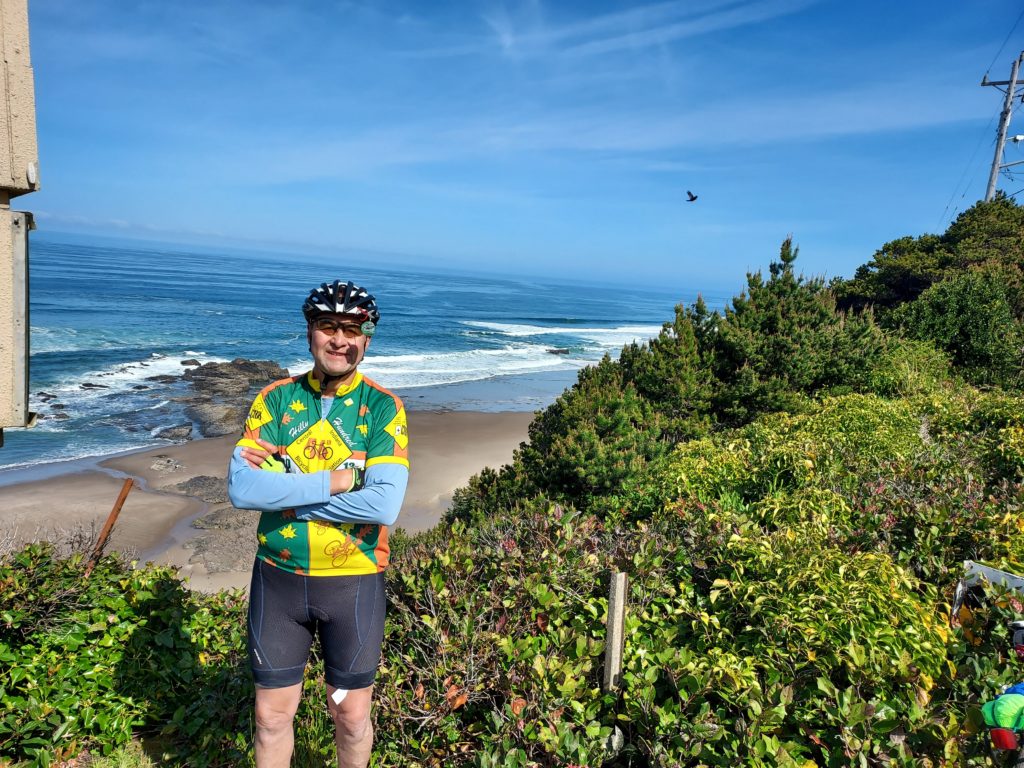 Farther down the road, we came to Boiler Bay. I had seen it on my own, then with Becky, and finally with Ron just 2 years ago. On every trip, we had stopped at the official State Scenic Viewpoint, which is a great sight looking north. Until today, I had never seen a view looking south. I happened to notice a break in the brush along the road and caught a glimpse of waves crashing against a tall cliff. We both stopped, got over the guard rail and got a better look.
Of course, when we got back on the road, we went only a few hundred yards and came to the official viewpoint. It was also excellent, but the one we found was better!
Less than 5 miles later, we were in the whale watching capital of the world, Depoe Bay.
We didn't see any whales while were there, but we relaxed on a bench, enjoyed the ocean view, and snacked on some trail mix. However, Big Mig might have captured something on video.
Heading out of Depoe Bay, I recognized a curve where Ron and I had seen some seals. Sure enough they were, still there! At first they were just sunning themselves, but a minute later, they must have thought it was lunch time, as most were headed for the water.
We continued on to our final set of views along the Otter Crest Loop off of Highway 101.
It didn't take long to get some of those views.
Soon the 2 lane road became a one way with a bike lane. We pretty much had the road to ourselves.
We had a 300 foot climb until we reached the final viewpoint.
It was all down hill as we headed back north to Depoe Bay, but it was also against the wind. When we got there it was time for lunch. Mike had a burger, fries and a beer. I did really have more than just a beer and a pretzel!
The ride back north was not as much fun. It was harder to see the ocean and the wind became a nuisance. We made faster time because we hardly stopped. On our return, though we were still 4 miles from our hotel, we had to do the obligatory picture.
On these trips, I always carry a small tripod so I can take pictures like the one above if there is no one else around. Once setup, I would set the timer and run back into the shot. Unfortunately, I had left the tripod in the hotel. We improvised.
Hidalgo did a good job! Our ride stats are here.
The Not So Lone Rider