For once, I wasn't too worried about the rain. Although it was overcast and the ground was damp when I started, the forecast had no rain until long after I would be done riding for the day. I still had concerns about the route. The first 11 miles were going to be on a trail. After yesterday's experience, I was very trail averse.
At dinner last night, I met some bikers who said it was paved most of the way, so I was hoping for the best. There weren't any alternatives, so I was just getting mentally prepared.
The next morning, I was pleasantly surprised to find a paved trail.
The mental jukebox had Tom Chapin singing "Saturday Morning ", followed by Harry Chapin doing "Circle". As I came to the end of my first 11 miles, I asked one more biker coming the other way if, indeed the trail was paved at little farther. He told me it was good for about another 2 miles, then it was back to dirt. I was only planning to be on it for another 2 miles, so I was good.
As I was leaving the trail, there was a sign warning bikers to use my arch nemesis, the C&O Towpath, and not use the road I was about to ride to get to the nearby state park. Well, the C&O Towpath and I were not on speaking terms and my destination was a lot farther than the park, so I was on the road, climbing the first of many hills.
Besides the hills, riding through the Maryland roads (not trails) was a tour through history.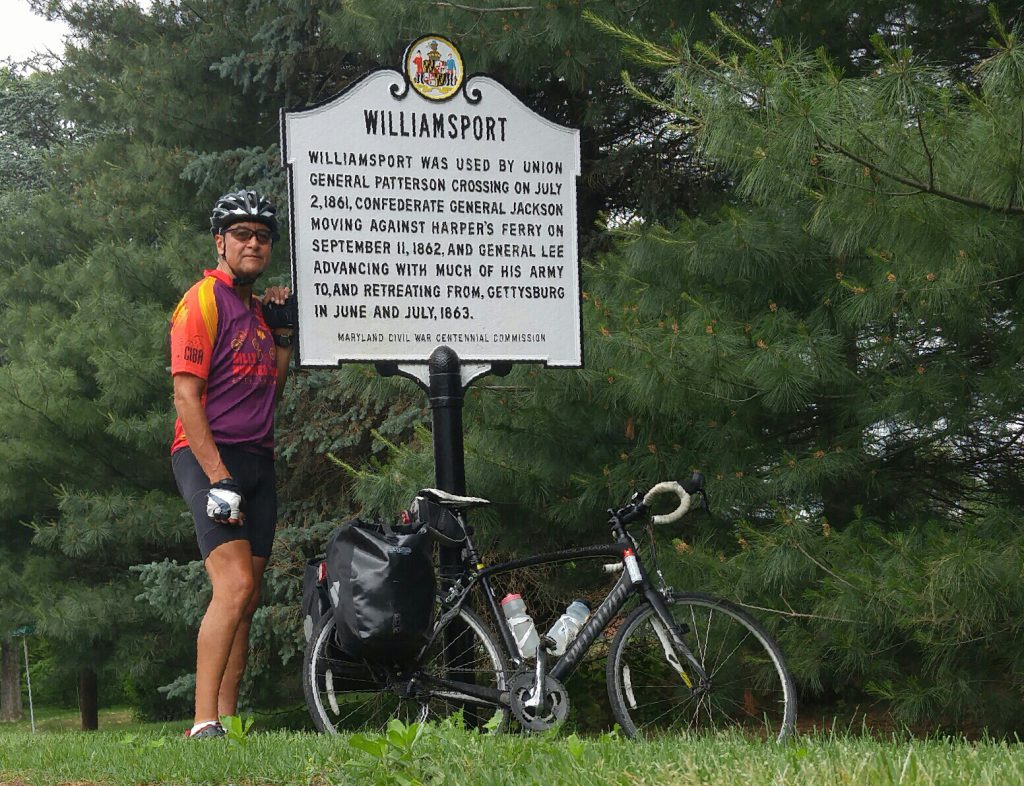 There were various towns and markers commemorating the role that they played in the founding of the union and then the preservation of that union.
The continental breakfast in the hotel was, as one of my warm showers hosts put it, "breakfast for those who don't eat breakfast." So, naturally I was looking for second breakfast in the first major town. As I was heading for the Waffle House in Williamsport, I came across another gentleman who seemed to be traveling the country for a cause.
The encounter didn't spoil my second breakfast.
The hills were challenging and it was getting warm and sunny. In spite of a good second breakfast, the ice cream addiction was rearing its head when I got to Boonsboro.
I was directed to the Potomac Street Creamery. It was closed. It was Saturday at 12:30 on a hot afternoon and they were closed. Maybe this is why Lee ran over Maryland in the early years of the war. I had my incentive to push on the Middletown.
I was rewarded with 2 scoops at a place called More Ice Cream. Nothing like climbing hills after a belly full of cold water and ice cream.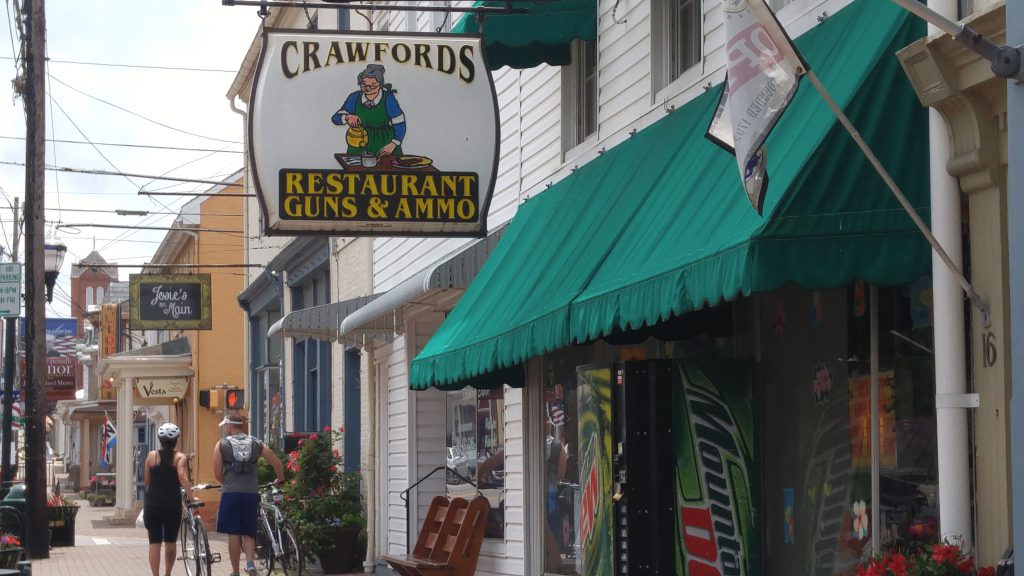 I rode the sidewalks for almost a mile when I got to Frederick because the traffic was heavy and there was not much of a shoulder. Once I got past the intersection with the interstate I was taken back in time by the old buildings and homes that were more than a century old.
Becky and one of our dogs, Lini, were going to pick me up in Damascus. We had been using an app called Life 360 to track each others geographic location. Although Becky was traveling much faster, I was much closer to our destination. The remaining towns didn't offer much to see or eat, so I was anxious to push on. Near my final turn in Ijamsville, I came to a road detour.
I could see the construction and barriers in front of me. I still had good reception and could see that any detour was going to add at least 10 miles to my ride. But I was not driving a car. I was a motivated cyclist with the legendary Hidalgo. Fortunately, it was a Saturday and there was no construction crew present. I rode under the Caterpillar tractor that served as a roadblock. When I got to the concrete barrier that separated me from my targeted route, I popped the panniers off of Hidalgo's rack and dropped them across the concrete wall. With Hidalgo back to his light weight, I lifted the bike over the barrier, then climbed over to join the crew. For all I know, I might have cut a half mile off my original route.
Now I was only 10 miles from Damascus, the end of the day's ride, and my reunion with Becky. The head wind and hills slowed me some, but certainly couldn't stop me. The sky was getting dark and I was a little worried about rain. My phone battery was also getting low. None of it mattered, as I soon saw the city limits sign.
I went further into town and pulled into a McDonalds to get a small burger, a Mcflurry (you can never get enough ice cream), power for the phone and free wifi. It was a good setup to wait for Becky and Lini. While I was waiting, there was a woman camped by the only electrical outlet. My phone needed charged, so I asked if I could sit near her table so I could plug in my phone. She was having trouble getting connected to the wifi, even though she "Comes here all the time so she can watch youtube on her laptop with the free wifi". Apparently the network was not on her memorized list and the obvious network name, "McGuest" was not showing up. She asked me if I knew anything about computers. I confessed to my 30+ years in IT. I helped her debug the connection, then helped her get the sound working through her headphones.
Becky was delayed by accidents and construction on the interstate. I was very glad to see her when she finally made it. I assembled the bike rack to carry Hidalgo. Becky gave Lini her potty break and we were off to the hotel. The hotel's wifi was not working. There was no ice machine. They had lost the information that we had a pet and we had to fill out extra paperwork. Tomorrow's forecast calls for rain. I am once again using my phone as a wifi hotspot. However, I get to spend the night next to my wife. Tomorrow is the last day and I will dip Hidalgo's wheel in the Chesapeake Bay. What a perfect night.
The Lone Rider