Day 7 Windy Seaside views and a Lone Ride
It was 40 degrees cooler than it was the evening before when we woke in Coos Bay. We were going to spend the bulk of the day just sightseeing from the van. Besides being cooler, it was overcast and very windy. Supposedly, the winds averaged 15-18 mph, but there were gusts that got much stronger.
We didn't make any stops until we were almost to Bandon. We pulled off at the Bullards Beach State Park to tour the Coquille River Lighthouse. There was a visitors center inside.
We passed through the port side of Brandon and toured some of the shops. In speaking with one of the cashiers we got a better appreciation of the reach of Chicago superstation WGN. Even though she and her husband grew up in Oregon, they were Cub fans because they had watched them with Harry Carey leading the 7th inning stretch though their formative years.
We went out of town along an oceanside road to stop at some windy viewpoints at Table Rock and Face Rock. In the pictures, neither rock is wearing a jacket or glasses.
Heading south, we stopped at Misty Meadows jams. Where else can you find Huckleberry, Cranberry, Wild BlackBerry, Marionberry, Raspberry, Loganberry, Boisenberry, Gooseberry, and Tayberry products. Oh yeah, they also had apricot and cherry, if that's your thing.
I kept telling Mike how great it would be to get some Fish and Chips from the Crazy Norwegian in Port Orford and sit by the water. When we got there, the Crazy Norwegian was closed, it was overcast and the wind was making us feel colder than the 55 degree temperature.
Across the street from the Crazy Norwegian, was a place I had never tried called The Dive. The name had nothing to do with a negative connotation, but referred more to its nautical theme. It was outstanding. Great food, beer selection, staff, service, and atmosphere.
A final look back towards Port Orford. I changed into my biking clothes while at The Dive.
The original plan was for me to ride from Port Orford to Gold Beach and Mike could make his stops along the way with the van and trailer. With the colder temperatures and the >16 mph headwinds, I decided to cut the 27 mile ride down to a 16 mile ride starting at the Dinosaur Gardens.
My first stop was near Sisters Rocks, a favorite of Becky's. Mike caught up with me there.
Since we were south of Bandon, we had been playing leap frog with a touring cyclist. He had just past us before we got to the Dinosaur Park. Since I was making multiple photo stops, I didn't think I would reach him before I got to Gold Beach. To my surprise I saw him resting and eating a snack. I had to stop and learn more. Dimitris was from Canada, exploring the coast on his own, camping, and staying with Warm Showers hosts. I complimented him on his steady progress down 101. We spent at least 15 minutes trading stories and tips. We both agreed that the wind was terrible today and that we'd gladly trade it for bad hills. As Edo used to say "the wind was unyielding! "
I also was leap fogging 2 women from Germany. I stopped at another one of Becky's favorite spots, Otter Point. I took it in, but doubled back to Highway 101 so I could have a shorter, flatter ride into Gold Beach. As I was leaving I bid them farewell and safe travels.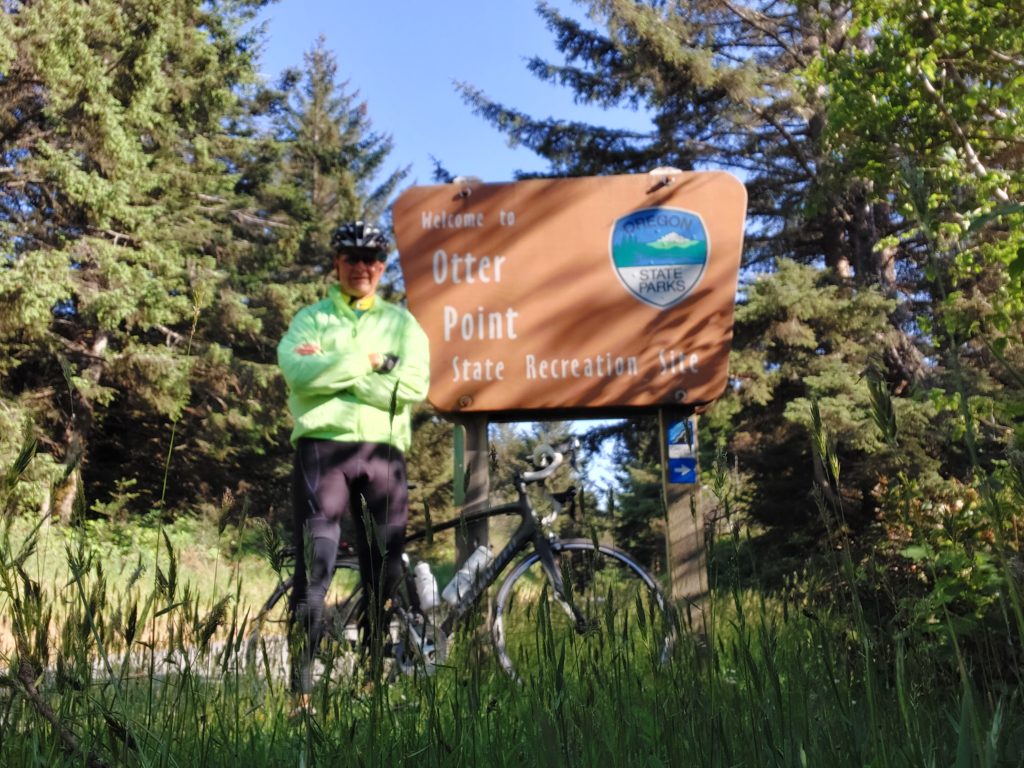 I climbed a hill ahead of the bridge over the Rogue River that led into Gold Beach. I had momentum and was moving better than 20 mph. As I hit the bridge, I was ready to sprint across only to have the headwind slow me to 10 mph.
Regardless, I still got my picture on the other side.
Mike was waiting at the hotel. We didn't need much dinner after the lunch at The Dive! Ride details are here.
The Lone Rider