Day 24 2021 – Veggie Tales and Ice Cream
As was usually the case when we were close to the ocean, it was a foggy start as we left our hotel at Pismo Beach. Our blood got moving right away with a 100 foot climb in the first half mile.
After making our way though the side streets of Pismo Beach, we merged back on to CA 1 and headed south once again. Although we were only a quarter mile from the beach, couldn't see much of it. By the time we reached Oceano, we were turning inland. We headed due east for a couple of miles, then turned south into a 150 foot climb in a little less than a mile.
The next major town was Guadalupe. On the way we saw many enormous fields of vegatables and fruit. We saw workers harvesting strawberries. Ron mentioned that he had done a little strawberry picking in his youth to earn money. As the workers filled a conatiner or bag, they literally ran to get the truck loaded or to go back for more. Ron said he never ran. The work was hard enough as it was.
There was a sort of a privacy fence that surrounded the property. I think it was there to insure you couldn't see or disturb the workers. I took these pictures where the fence had fallen in a small section. The protection on the plants makes it look like a big graveyard.
This was part of a large raspberry operation.
Some of the plants we recognized and some we didn't. Still not sure what either of these were.
There was a lot of harvesting with music sometimes playing. Maybe you can hear it over the traffic noise.
Two years ago, I was near the end of the day's ride when I passed through Guadalupe. I stopped at a gas station mini mart to get a snack on the way to my hotel in Santa Maria. I never really saw any of the town of Guadalupe. It turned out to be a charming town. This mural had probably been on the side of this building for many years. It was basically a version of you are here and Guadalupe is here relative to all these other places. Obviously we were at the center of the universe according to this depiction.
Ron and I were at least ready for a coffee and met a woman who recommended a few cafes in town. It was a charming little town and things were not especially busy. We landed at the Guadalupe Cafe. Not sure how they came up with the name, but it was excellent. Ron got his latte with some carmel syrup and I got second breakfast. We agreed that the coffee was the best we had on the entire trip so far.
The sun broke out as we left Guadalupe towards Orcutt and our big climb to reach Lompoc. There were more huge farming operations and a few interesting things along the roadside.
This was a left over from the last of the charity rider group. We never passed up a chance or excuse to take a break. I'm guessing the tube was an indication that someone might have had a flat here. They really should have picked up after themselves.
I'm pretty sure this is an owl and a Stellar Jay. Maybe the owl killed the Jay, but I don't know what might have gotten the owl.
Then we started our 800 foot climb over a mountain that would drop us into our destination for the day, Lompoc. This is a view of the first curve that rises about 250 feet in a little over a mile.
As you can see, someone painted various phrases on the road along the 3 mile climb.
We finally made it to the top, which gave us a view of Vandenberg Village, which was southeast of Vandenberg Air Force Base.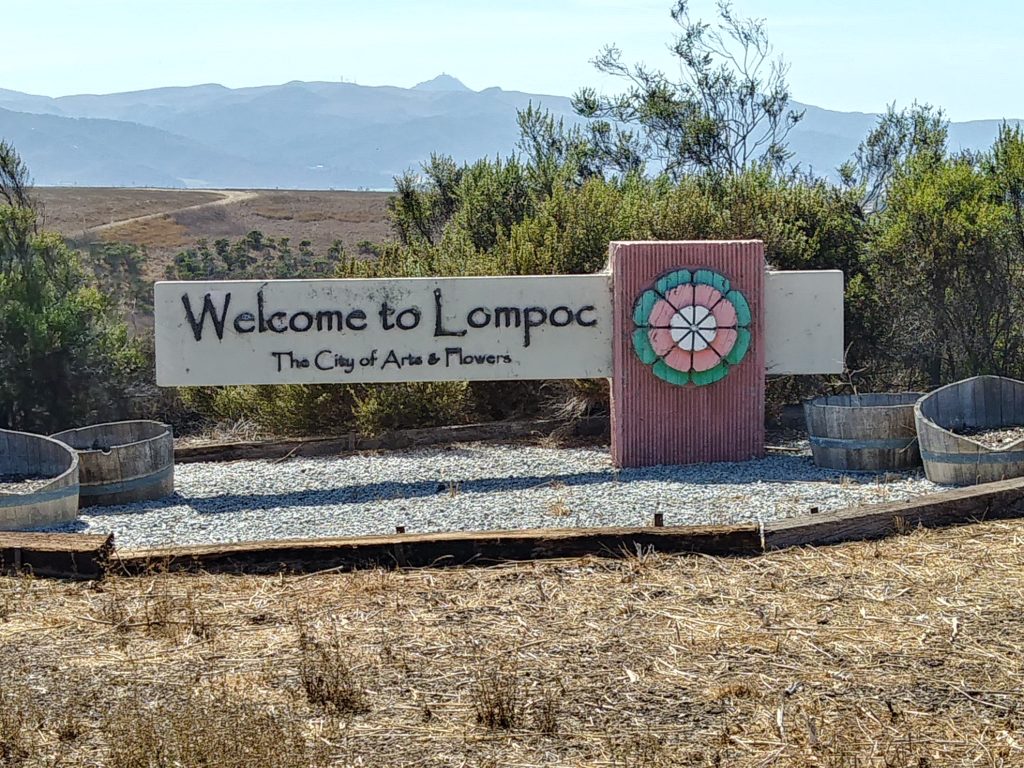 When we got to the third stop of our Tom Bodett tour of Motel 6, Ron had to do some business calls while I checked in. The good news was that I had finally spent the extra $4 on the microwave and fridge option to our room. The bad news was it was on the second floor. So, we had to make 2 trips up the stairs. One for the bikes, and one for the panniers. The other bit of good news was that they had a coin operated laundry on premises. Bad news was they didn't provide the change. However, I was told that I could download an app that would allow me to pay with a credit card and I would get the first load for free when I signed up!
But before we started any laundry, there was a more important task. We both wanted ice cream. Ron found a Fosters Freeze 2.5 miles away. Before we got out of our biking clothes, we dumped the panniers in the room and walked our bikes back down the stairs and went on our mission. We were in such a hurry to get our treats we didn't notice this sign.
At the front, the lights said the drive through was open, but the main entrance was not.
So, when we pulled up to the speaker where you order, we were told that we couldn't use the drive through because we weren't in a vehicle. I tried to argue that under California law, a bicycle is a vehicle. No, it had to be a motorized vehicle! Maybe if I had Black Beauty, Becky's new eBike, I might have made it work.
We had just embarked on a five mile round trip and were on a mission from God, or at least Mr. Foster. Ron flagged down one woman who was next in line in her car to see if she would order for us. I guess we were a little too strange looking and turned us down. Next, we hit up a young Latino man. Jerry was willing to help us out. We gave him the cash and he relayed our orders along with his own.
Paydirt and ice cream. A Butterfinger Twister for Ron and an Oreo for me.
So ended our successful quest for dessert before dinner. This five mile round trip is not in the ride stats, but the rest of the journey with all the climbs is here.
I found this on the road on the ride back from our ice cream run. I meant to see if I could access the funds when we went to the grocery for supplies and beer to go with our take out dinner. When we got to the store to check out, I forgot I had it with me. I guess the cleaning staff might get a nice tip …. or an empty piece of plastic.
As always, the adventure begins when things don't go according to plan.
The Not So Lone Rider