Day 28 2021 – Beach Trails, Last Warm Shower
Surprise! We started the day with a misty gray sky near the beach. The only thing missing was fog, but we did have a light mist in the air. We passed by the marina in Venice and were soon riding on pavement surrounded by sand. I couldn't figure out which vessel belonged to Ron. He told me that he had gone sailing here in his youth.
The beach was empty, except for a few people doing their Monday morning routines. We could hear and sometimes see the jets leaving LAX as they quickly disappeared into the clouds.
For me, it was a much different experience than 2 years ago. Then, it was later in the day and I was about to break spokes on my rear wheel. The beach was much more crowded. I was about to have my first In N Out burger while my rear wheel was replaced. Today, it was a relaxed ride along the beach. Things got a little more crowded as we moved successively through Manhattan Beach, Hermosa Beach, and Redondo Beach.
The homes and the boats were impressive and probably very expensive along the water. After Redondo Beach, we turned inland.
We didn't have our route mapped completely today, so we had to check our directions more often. Since I was the one with the Hobbit appetite, I talked Ron into a stop for donuts and coffee. I got the donuts, and he had the coffee.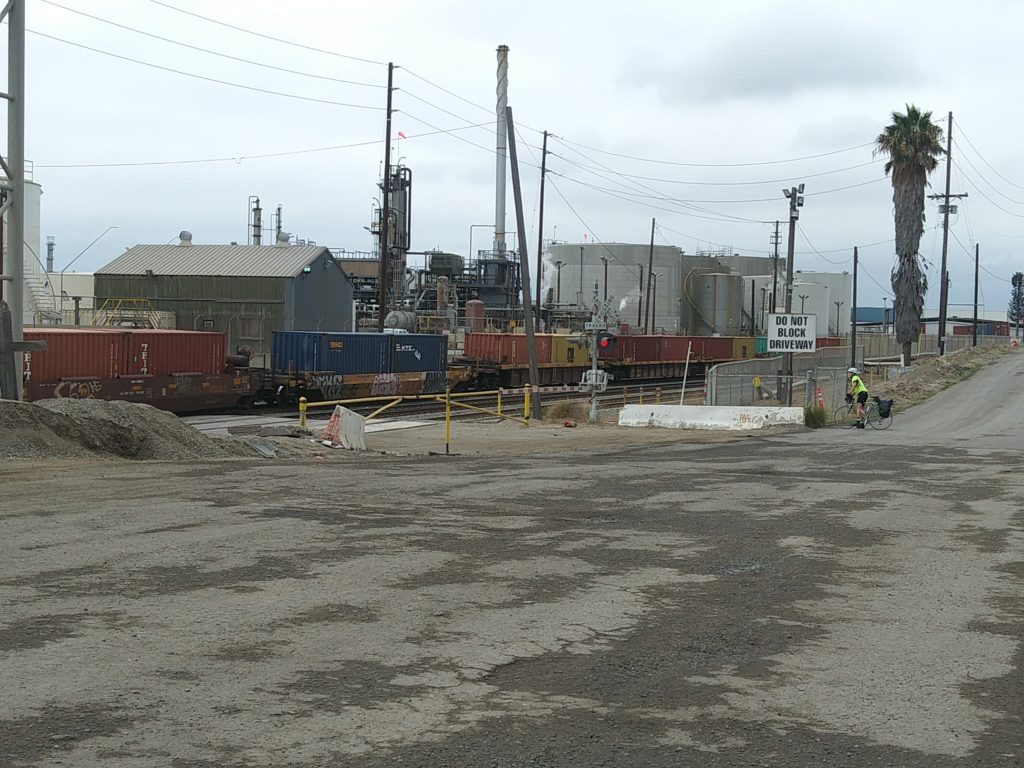 For most of the country, LA means Hollywood, beaches, sports teams, sunny skies, and traffic. Most don't realize that that LA has a big oil industry, transportation hub, shipping, and port. Once we pulled away from the beaches, we got to see this other side of metro Los Angeles that the rest of the country doesn't think about.Trying to make our way back to the Pacific Coast Highway, CA 1, we were passing large trucks. There were now lots of railroad lines and the largest oil refinery I'd ever seen outside of Texas. The pavement was worn almost to the gravel and we were barricaded from crossing to the road we wanted to reach. Luckily, they weren't closed to everybody, just the general public.
While in Long Beach, where we did not see any beach. We had to travel farther to reach the water and did a quick peak at Seal Beach. That is where we first noticed all the container ships lined up for miles, waiting to dock and unload. I don't recall such a site 2 years ago.
For almost the rest of the ride, we were along dedicated bike paths along the beach. Sunset Beach, Huntington Beach, and Newport Beach gave us shelter away from the traffic of the Pacific Coast Highway.
We stopped for a beer and shared a quesadilla before we made the final push toward Laguna Beach. It was still a little chilly for ice cream.There were a few hills to conquer before we got there. As always, we were rewarded with some impressive views of the water and shore.
We eventually made it to our warm showers host, Ryan Goldsmith. Just when we thought our climbing was done, we had to go up a hillside 500 feet in a quarter mile. OK, maybe it was only 50 or 75, but it was steep enough that we thought we might tip on our way up. When we got there, another cycling guest, Danny greeted us. He had just started a journey from LA to Florida.
After Ron and I had our showers, our host, Ryan arrived home from his work at his farm nearby. He was very accomodating. We had not expected dinner, but he made the most amazing dish of sauteed vegetables with sausage and lamb bits. We were joined by his friend, Nathan and it was a great night of conversation, music, and what can only be called "community". It was so good, I didn't have the energy to finish the blog until today, a day late.
Today's ride stats are here
The Not So Lone Rider