Not So Lone Rider – Becky and Lucy
Even before I repeated the Canada to Mexico ride with Ron in late August of 2021, I had already become the Not So Lone Rider. My wife, Becky and I had planned a getaway for our 40th anniversary to the San Juan Islands off the coast of Washington state in June of 2021. Becky had wanted to do some more riding with me, but felt like she would slow me down on some of the hills. We researched and then purchased a Specialized Vado SL eBike for her. It was originally christened as "Black Beauty".
On the San Juan Island getaway, we left our car at the ferry dock and went across with just our bikes and what we could fit into my 2 panniers. I left Hidalgo at home and let my general workhorse, "El Blanco" come along. I bought El Blanco, used, while we were temporarily living in Vancouver, WA in August of 2016. I'm guessing that when I bought the aluminum frame, carbon front fork Mercier Galaxy that it was probably 2-6 years old, making it about the same age as Hidalgo. Like Hidalgo, I geared it down a bit with a more mountain bike rear cluster.
We did 2 rides of more than 20 miles around the island , with some pretty steep hills. I found that Becky and Black Beauty were often leaving me and El Blanco eating her dust against headwinds and steep hills. To her credit, Becky was using minimal assist from the eBike. And to be clear, her bike is pedal assist – not like some eBikes that are not much more than glorified electric motor bikes that have pedaling optional. If she doesn't pedal, she doesn't go.
Now we fast forward to May 22-23, 2022 and we completed a round trip from our home in Lacey to Centralia, WA. It was a round trip of almost 68 miles over 2 days. Now, Becky decided that Black Beauty should be called Lucy – because she is more of a Lucy. Once again, I took El Blanco since he always has the rear rack on and ready to carry the panniers. The weather was great – mostly sunny, with temperatures in the low 60s and not much wind.
We went out south along the Chehalis trail near our home. Since it was a Sunday, there were lots of people on the trail, as well as some horses, and always a nice view of the Deschutes River.
Originally, we were going to hop off the trail and go into Tenino down Old Highway 99. Instead, we took a longer route that kept us on the trail.
Once in Tenino it was time for second breakfast.
In less than 5 miles down the road, we were crossing the railroad tracks in Bucoda.
When I planned this trip, I thought we could avoid some of the heavier traffic along SR 507 to Centralia and take an eastern loop out of Bucoda for a more scenic and quiet ride. It was both, but it also had some killer climbs where Becky/Lucy left Me/El Blanco gasping for air trying to make the grade with loaded panniers. You can see details of the route for the first day here.
We made it into Centralia around 4 PM. We checked into a unique hotel that transported us back in time a hundred years. The only bad thing about the Olympic Club was getting the bikes up the 2 flights of stairs to our room. El Blanco wasn't too bad with Becky carrying the panniers. As eBikes go, Lucy is a svelt 34 lbs. That's still almost 2x El Blanco. I slowly pushed her up the stairs – literally step by step. Coming down the next morning was a little easier – mostly because I wore my running shoes, not my bike shoes during the process.
The room was a little small, but true to its heritage. We had our own sink, towels and bathrobes. This came in handy as the showers and bathrooms were shared. We never had an issue with that as we never waited to use one of the multiple facilities available on our floor. The bathrobes were a nice and useful touch. As you can see in the background, the walls usually had stories stenciled on the walls.
We were content to have dinner at the hotel. It had a beautiful bar, several pool tables, indoor and outdoor seating. On top of that it was part of the McMenamins chain of brewpubs. Becky had a burger and I had a Rueben. We split both the sweet potato and Truffle infused fries, along with trading half of our sandwiches. We also had some pretzel sticks. I had a stout in Ron's honor.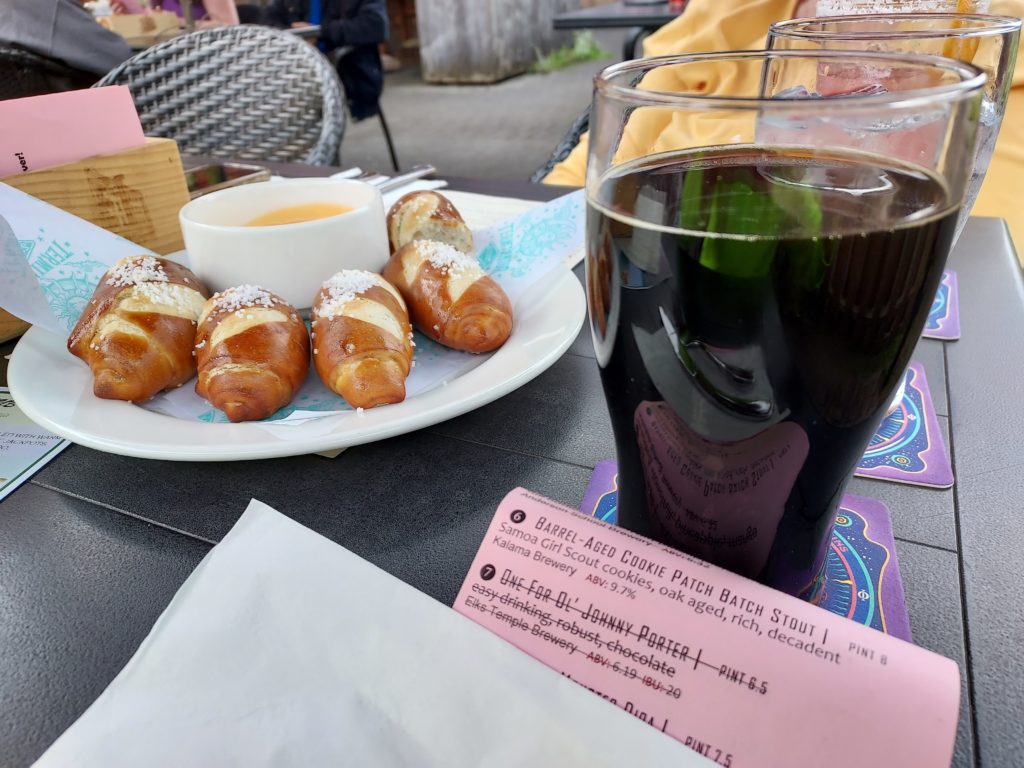 The room was very comfortable and we fell asleep relatively early. We had purchased breakfast as part of our package. It was enough to take us home on the ride the next morning without an ice cream stop. We were on the road by 10 AM and caught a little wind and cooler weather. My GPS froze up around 7.6 miles into the ride. I think it may have lost power, but I could not get it to respond to any of the buttons, even after hooking it to a portable charger. In any case, we didn't really stop until we were halfway home, near the elementary school in Little Rock. Apparently this was a major milestone in Women's suffrage.
After taking a few minutes to give our butts a break, we were back on the road and only stopped for a quick photo op as we approached Black Hills HS at the edge of Tumwater.
As we got closer to Pioneer Park, Becky warned me that she and Lucy didn't want to lose momentum when we climbed the big hill there. She said she may get ahead of me. She was true to her word. By the time I was struggling halfway up the hill, she had made a turn and was out of sight. I was making good time with a tail wind heading east on Yelm highway, but she still made it home a good minute or two ahead of me. It was enough that I never saw her again until I pulled into the driveway.
The stay in the hotel, the food, and the company made for a great adventure. I could almost get used to this!
The Not So Lone Rider